Cliqbux is the top provider of advanced POS systems for businesses in the restaurant and retail industries. Our innovative technology allows seamless management of inventory, employee schedules, and purchase orders. Boost your sales and customer retention with our loyalty program module. Manage your tables and customer reservations efficiently during peak hours. Keep track of your ingredient inventory in real-time, ensuring that you never run out of stock. Our enterprise and real-time reporting features provide in-depth insights into your sales data, empowering you to make informed decisions. Our managed menu board feature allows for easy customization and updating of your menu items. Simplify your employee management with our comprehensive system. We also offer 24/7/365 support to provide technical assistance when you need it. Experience the power of Cliqbux today and transform your business!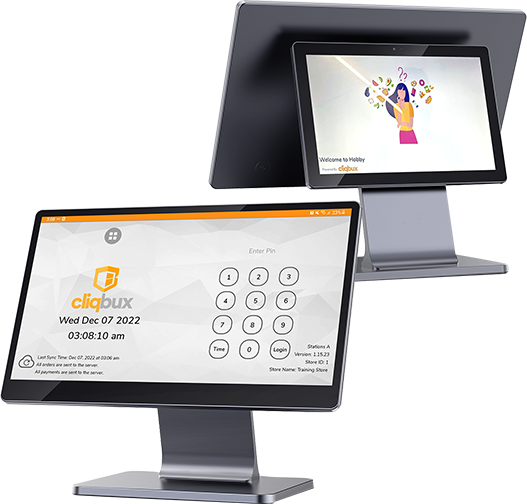 Manage your Business with Ease
At Cliqbux, we understand that managing a business can be a daunting task. That's why we offer a hybrid Point of Sale system with a customer-facing touch display, allowing for a seamless checkout experience. Our system features a user-friendly interface, making it easy for you to manage transactions, and even allows for offline payments.
Our priority is to help you manage your business with ease. We know how important it is to simplify business management, which is why we're committed to providing a reliable, efficient, and user-friendly solution. This means you can focus on what you do best: running your business and serving your customers.
In conclusion, if you're looking for a POS system that can help make managing your business more manageable, choose Cliqbux. Our user-friendly interface, customer-facing touch display, and offline payment capabilities make it the perfect solution for any business owner. So why not manage your business with ease? With Cliqbux.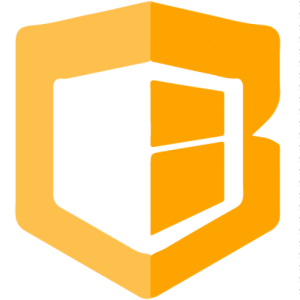 Cliqbux' Web Dashboard offers real-time reporting, allowing businesses to access sales, inventory, and employee performance data on the fly. This feature helps identify issues and address problems promptly, ensuring smooth business operations. It also allows tracking of sales trends and adjusting of business strategies, accordingly, staying ahead of the curve and adapting to market changes. Overall, the real-time reporting feature of the Cliqbux POS Web Dashboard is an invaluable tool that provides crucial data to make informed decisions and stay on top of business performance.
The Cliqbux POS Web Dashboard allows businesses to remotely manage all locations from a single dashboard. This feature provides real-time data access across multiple locations, including sales, inventory, and employee performance. Businesses can easily set up new locations, manage employee access, and update menu items remotely, streamlining the process of expansion. Overall, the remote management feature of the Cliqbux POS Web Dashboard is a valuable tool that saves time and resources while providing comprehensive data access and enabling informed decisions across all locations.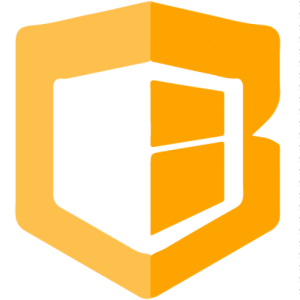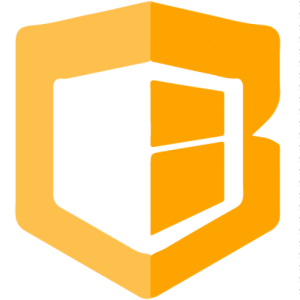 Say goodbye to juggling multiple systems and dashboards for your PoS management needs. With Cliqbux POS, you get a single dashboard that does it all! Our powerful dashboard provides comprehensive sales, inventory, and employee performance data, all in one place. This makes managing your business easier than ever before! Our single dashboard streamlines your workflow, making it easier to manage your PoS operations. You'll save time and resources, with no need to switch between multiple systems. Plus, our intuitive interface is easy to use, so you can get started right away! In summary, Cliqbux POS provides a powerful and easy-to-use dashboard that simplifies PoS management. With comprehensive sales, inventory, and employee performance data in one place, you'll be able to manage your business with ease. So why juggle multiple systems when you can have it all on one dashboard? Choose Cliqbux POS today!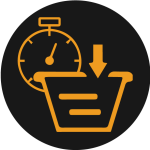 Efficient ingredient management
With Cliqbux's ingredient management feature, you can easily track inventory levels and expiration dates of all your ingredients in real-time. This helps you avoid overstocking or understocking, and ensures that you have the necessary ingredients to prepare your menu items. Additionally, you can set up alerts to notify you when an ingredient is running low, which helps you plan your orders in advance and avoid stockouts.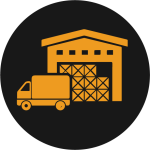 Seamless warehouse to warehouse management
Cliqbux's warehouse to warehouse management feature allows you to transfer inventory between multiple warehouses, whether they're located in the same building or different parts of the world. This makes it easier to manage your inventory levels and ensure that each location has the necessary supplies to fulfill orders. Plus, with real-time tracking of inventory movements, you can easily monitor stock levels across all locations.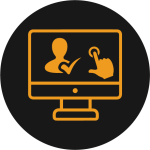 Cliqbux has a user-friendly interface that makes it easy to use all of its features, even if you're not a tech-savvy person. The interface is designed to be intuitive and user-friendly, which means you can quickly navigate the software and find what you need. Plus, with customizable dashboards and reports, you can tailor the software to meet your specific needs and preferences. This helps you save time and streamline your operations, so you can focus on growing your business.
Looking for a reliable restaurant management system? Cliqbux ' Table Management feature is just what you need! This feature allows you to efficiently manage your restaurant's layout, assign tables to servers, and monitor occupancy in real-time. With customizable floor plans, you can design your restaurant layout to match your needs. The software's intuitive interface allows for easy management of reservations, waitlists, and guest check-ins. Whether you're running a small cafe or a large restaurant, Cliqbux' Table Management will help you optimize your seating and boost your sales. Try it out today and see the difference it makes in your restaurant's performance!